My long time friend, Bob Dadisman died unexpectedly Sunday evening January 21, 2018.
The reality of his passing is a shock. In my mind he was destined to live beyond normal expectations. His dad died at age 95 and his mom is still living at age 101 +. It seemed, in some ways, he planned not to die at all. Not that he didn't realize his mortality, he just didn't live like it.
The windows through which I saw Bobby was in our close friendship as couples. Ann and I with Bob and Carla and Frances and Lovell Richardson enjoyed life together regularly and traveled to numerous places. Those memories are special. Additionally, Bob and I served together as elders. It was there that I gained deeper insights into my friend.
Bob was a strong man. Anyone who shook his hand knew his physical strength. I watched him in his later years work like a man half his age. It never occurred to me to challenge him physically. His strength was more than physical.
He was a man of strong convictions. I did, on occasion, challenge him on that front. He did not often relent to my challenges but he was always willing to hear me out. I never felt disrespected. Thankfully, whenever he was nearing his tolerance limit a facial tic would appear and I knew it was time to retreat.
Bob was a passionate man. He deeply loved his family, his church family, and his business and worked tirelessly for their well being. His love and passion was revealed in his deeds. I never witnessed an emotional outburst from him.  However, I am certain that anyone who engaged him in an emotional context never doubted his care and concern.
Bob was a man of faith. His belief in Jesus was deeply embedded in his up bringing. As we served together as elders, I watched him struggle with the challenges that come to people who are serious about their faith. He was sometimes perplexed and other times troubled but I never knew him to waver in his confidence in Jesus.
If I had to choose a prominent person/image that most resembled Bob I would pick John Wayne (my apologies to the younger. Google it!). Like Wayne, Bob was a "straight shooter" who stood tall (?) and courageously lived out his values. The following quote about Wayne fits Bob well:
… his was no star-crossed journey. Rather, [Bob] simply worked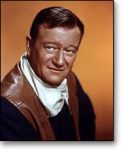 tirelessly at his craft until he became a [success], but he never lost sight of the simple, straightforward person he was raised to be, even at the height of his [success]. Through it all, he tended to his family, enjoyed a few laughs, and devoted himself unwaveringly to his friends and [church] all his life.
I can say without reservation, the world is a better place because of Bob Dadisman.